Eduardo Paolozzi 1924-2005
Scottish artist and said to have a very prominent influence on the pop art movement.
He created sculptures, collages, drawings and prints. He made large scale figurative sculptures from plaster and molds and aluminum sculptures which included things like engine parts , to create sculptures of futuristic machinery. It is said he used found objects to impress into his casting material to create texture in his sculptures. He also used a variety of techniques from casting from shop dummies and using reliefs to using the lost-wax method.
I get a real industrial revolution feel from his work and I like the way he combines the humanoid with the machinery or mechanical features as it gives a real sense of a robotic futuristic take over. He obviously  had a passion for science and technology. 
"Paolozzi made a number of robot-like, human-sized works during the mid-1950s. He was fascinated with robots for much of his life, perhaps as an allegory for man within a system beyond his control. They owe something to the existential beings produced by Giacometti, with the addition of Paolozzi's own vision and interests. The works don't have a feel of a bright future; they are a vision of a "used future" (a term that came to some prominence at the time). And yet, these emotionless collections of parts do seem to have stability and pride in them, a quality that seems closer to an attempt to prolong life, rather than the opposite." [1]
Images from https://www.tate.org.uk/search?aid=1738&type=artwork&page=3
Victoria Ferrand Scott
A yorkshire based abstract sculptor who also uses drawing and video in her work. She works with mainly fluid materials such as concrete, plaster and bronze in her sculptures. She was awarded a grant in 2012 to work with Leeds University experimenting with the use of flexible forming for casting concrete. Unfortunately I could not find any links or information of this work either with a google search, on the Leeds university site or on the OCA online library. This was disappointing as I could see from other textile students blogs that they had been able to access it. Maybe because the research is 8 years old they have removed it from the university site?
I managed to find out that she creates molds from latex and from fabric to cast concrete in and also uses gravity, pressure, binding and wrapping to manipulate the casting material while it is in the mold. This creates unique, smooth, 'fluid' shapes in contrast to the cement it is made from.
I like the bulging fluidity of her work as the bulging of the wrapping exercises in part 2 interested me a lot- making a material bulge through another, or using wrapping to create tight areas which made the material 'ooze' out of another area inspired my body shaming samples in part 2. I am beginning to have ideas of filling balloons or stockings with plaster and then when they are nearly set, wrapping them to create bulge, or laying them on top of each other so they spill over each other. [2]
Images from https://www.axisweb.org/p/victoriaferrandscott/#artwork
Rachel Whiteread
Is a British sculptor, mainly working on large scale pieces. She is known for her casts of domestic objects which reveal their inside 'negative space'. She casts the internal space of objects such as closets, houses, water towers and cardboard boxes, giving the viewer a different perspective of these objects, a view that might not be obvious- the empty, inside of an object. Something that should be empty but is now filled with plaster or concrete, capturing forever the whole internal space of an object, the memory of that emptiness.
'Ghost' seems to be the significant piece that launched Whiteread's reputation in the art world. It is a negative plaster cast of a victorian parlour room from a house in North London that was scheduled to be knocked down. It was created in pieces, a grid like formula applied to capture every inch of the room, and then reassembled, facing outwards, giving an inside out version of the room. You can see that it is a room, but it's not functional. It appears as a lonley, cold memory of what it once was-warm, cosy, filled with a family. The name of this piece is perfect; 'Ghost'- a vague imprint of something left behind.
Whiteread then went on to cast the interior of an entire 3 storey house in London (untitled-House) except for the roof. This piece raised a lot of issues on political and social levels, highlighting redevelopment plans for the area which were unpopular, public housing debates and situations of housing in deprived areas. It was torn down by the local council after only 80 days, although it did win her the Turner prize. Again, the feelings it evokes in me when looking at it is an emptiness, a coldness, the concrete function of what a house is without the warmth and comfort of what a home is.
In 1998 she created an internal cast of an American water tower which was installed on the roof of a building in Soho between two working water towers, an iconic Image in America. It was cast in translucent resin which again invokes that ghostly quality. During the day, different light and weather conditions change the towers appearance, it can become almost invisible in some conditions.
I like this artist's work because of the ongoing theme of creating a memory of something that once existed, taking something familiar and turning it inside out, giving a view of the empty space by filling it up and displaying it without the outside shell- it's still recognizable but in a totally different context.
This was the theme I enjoyed experimenting with in part 2 when I wrapped a spoon with wire and then removed it leaving behind what I called the 'memory' of the spoon. Not an exact replica more the ghost or memory of what was there before. 
"Despite enrolling on the BA painting course at Brighton Polytechnic, she spent most of her time in the sculpture department. In her second year the artist Richard Wilson gave a workshop on casting and, importantly for the rest of her career, Whiteread saw for the first time that the cast of the space around a simple spoon resulted in it "simultaneously both losing and retaining elements of its essential 'spoon-ness'. I can't say that I realised there and then that the possibilities might be almost endless, but I knew it was challenging and interesting that something so simple could change your perception of objects." [3]
Images from my pinterest board collected from a variety of sources https://www.pinterest.co.uk/lunaiow/oca-mmt-moulding-and-casting/rachel-whiteread/
Rebecca Fairley
Rebecca is the course leader for textiles with the OCA and the writer of this course module- Mixed Media for textiles. Her speciality is surface qualities of concrete through creative practice, in which she did her masters degree at the university of huddersfield. She uses different materials such as fabrics and plastics and knits to create molds for concrete, leaving behind the subtleness and texture of a material into the hard coldness of the concrete, transforming the quality of it. She also traps fabrics and materials inside the concrete and then polishes away the surfaces to reveal what is hidden inside. Rebecca was reluctant to use concrete at first as she felt it was a very 'masculine' material to work with, but encouraged by her tutor and helped by her husband she came to experiment greatly with it, changing the masculine quality by adding the textures of soft materials.
I like the contrasts she creates with the hardness of the concrete but with the texture of a knit or flowing fabric like muslin. I also particularly like the concrete with the fluffy pipe cleaners inside, a hard outer shell but when excavated, a soft fluffy inside. The contrasts of the hard and soft are what makes her work so exciting. [4]
Images from https://rebeccamfairley.wixsite.com/website
Susan Benarcik
Susan Benarcik is an American sculptor, environmentally focussed, who uses mainly found objects in her work. She uses leaves, sticks, paper, string and techniques such as knotting, looping, weaving, wrapping and layering to create 3 dimensional sculptures. I really like her metamorphosis series and the 'Why our hangers' piece. Cocoon and pod shapes really appeal to me, they are organic shapes in the natural world offering protection, safety, transition, themes I looked at in part 2. I felt that this artist would have been better researched during part 2 due to her techniques and use of found objects and was a little confused as to the molding and casting relevance of her work on this module. I have seen her 'losing touch with reality' piece made from 32 hands, cast in plaster, moldined from her own hands, hanging over a bed of wheatgrass, asking viewers to think about their connection, or lack thereof, with the natural world. But this was the only piece I could see that really fell into the category of molding and casting. However, I enjoyed looking at her work, and seeing connections to part 2. [5]
All images from http://susanbenarcik.com/
Independent Artist research
Steen Ipsen
Steen Ipsen is a decorative ceramic artist, his pieces are expressed using form and decoration. His processes involve clay elements built up or free hand modelled objects. He never uses computers or digital techniques as he says it's important to him that the craftsmanship comes from his own hands. His pieces are wrapped with coloured string or PVC after they have been fired.
I love the fluidity of this artist's work. The Balls, Bubbles and Organic movement series were my favorite as they seemed to have much energy about them. The high gloss and shine builds the depth of the pieces and it really looks like some of the Bubble pieces could actually float away. He uses colour contrast really well- Red PVC wrapped around pure white ceramic balls, or Black on red and yellow on blue- always dynamic. The red on white reminded me of the red embroidery on white cotton strips I did for Joining and wrapping and also the red writing on the white raffia, the colour combination is quite striking.
The strings and PVC wrapped around the pieces looks like it's holding the piece together but I don't think that's the case, the ceramic shapes are joined already, created as one piece I think.
In his vessels collection the pieces are geometric- some in form and decoration, some in decoration only but that give the impression of form. These pieces reminded me of the patterns from part one created by folding and pleating.
I think I was drawn to his work because of the organic forms, the ball and pod shapes he  creates as they are shapes that appeal to me a lot. [6]
Images from https://www.steen-ipsen.dk/works/organic-movement/
Maria Bartuszova
Maria Bartuszova is a Slovak artist who specialised in ceramics and porcelain during her studies at the academy of applied arts in Prague.
Her processes include pouring plaster into shapes like balloons and tyres and then pressing or wrapping them as they start to harden. She also experimented with weight, creating soft plaster sculptures by pressing hard objects into the plaster and binding them with elastic bands.
I like the clean smoothness of the plaster with the imprints of the lines where it has been bound. I really like the bulge created, by squashing or wrapping, they make the sculptures look soft rather than hard. There are similarities between her work and Victoria Ferrand Scott's work although I do prefer the white softness of Bartuszova's pieces.They seem more fresh and organic in nature to me. [7]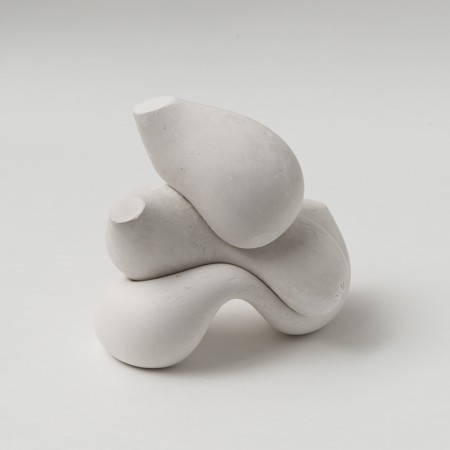 All images from https://www.alisonjacquesgallery.com/artists/80-maria-bartuszova/works/
I found a lot of inspiration from the artist research this time and enjoyed researching other artists I found myself. I created a pinterest Board here of all work and techniques that interested me.
[1] https://www.theartstory.org/artist/paolozzi-eduardo/artworks/
[2] https://www.axisweb.org/p/victoriaferrand
[3]https://www.theguardian.com/artanddesign/2013/apr/06/rachel-whiteread-life-in-art
[4] https://rebeccamfairley.wixsite.com/website
[6] https://www.steen-ipsen.dk/about/
[7] https://www.alisonjacquesgallery.com/artists/80-maria-bartuszova/works/